This shop has been compensated by Collective Bias, Inc. and its advertiser. All opinions, recipes and ideas are my own. #GPHolidayAtHome #CollectiveBias
Don't you love Glazed Ham? Whole cranberry sauce, brown sugar, fresh oranges and a few more surprises make this rich and vibrant tart and tangy glaze. Brushed on in layers and baked in to your favorite smoked ham, this is a holiday recipe your family will never forget.

Cranberry Glazed Ham. My new Holiday Favorite.
I've gotta know...when it comes down to holiday gatherings, what is your favorite? Turkey or ham? If you have a family that loves their holiday ham, you have to try our recipe. Sweet + savory, Cranberry Glazed Ham brings all of my favorite holiday flavors into one stunning main dish.
Cranberry Glazed Ham is so easy to make. Seriously, this crave-worthy meal centerpiece is one of the easiest holiday recipes you will ever make. The glaze is so simple but bursting with flavor. This glazed ham will taste like you slaved in the kitchen for hours, but nah.
We've got you. Get the complete recipe at the end of this post.
Holiday Tip #1: Dollar General and Georgia-Pacific will save you money this Holiday Season.
Stock up for the holidays and make your dollar go further with these awesome Georgia-Pacific essential products at Dollar General. Starting 11/20/17 through 12/23/17 only, Buy 3 Participating Products, Save $3!
(Valid on Angel Soft® 12 Family / 12 Big Lavender, Sparkle® 6 roll, all Quilted Northern Soft & Strong® Bath Tissue 9 Mega and 12 Double Roll, Quilted Northern Ultra Plush® Bath Tissue 12 Double roll, Dixie® Everyday 9in 86 ct, Dixie® Ultra 10in 44 ct, Brawny® 6 Large Roll, Mardi Gras Napkins® 200 ct.)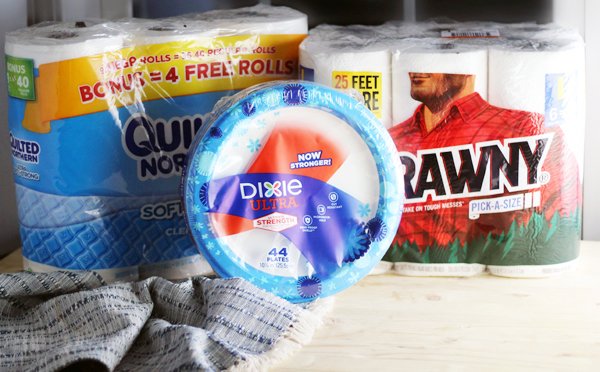 You know you are going to need extra everything. From cleaning your house before company comes to wiping up messes in the kitchen, Brawny Paper Towels are a must-have.
(Plus, with extra guests, the select-a-size variety will come in handy.)
Our personal must-have items:
Brawny Paper Towel, 6 roll
Dixie Ultra 10 in 44 ct Paper Plates
Quilted Northern Ultra Soft & Strong Bath Tissue, 9 Mega Roll
Holiday Tip #2: Buy a pre-cooked ham or turkey.
Seriously. This will save you hours of cooking and the stress of wondering if it is done yet. Simply follow the package directions for heating. That's what we did to create this delicious Cranberry Glazed Ham.
For basting and glazing, see the complete recipe at the end of this post. Don't worry, we will tell you exactly how we got this rich cranberry color.
Holiday Tip #3: This glaze also works on turkey or as a side sauce.
That's right, this is a double-duty recipe. If you are serving turkey instead, baste it toward the end of cooking. Or serve it as a side garnish with your holiday meal.
Our recipe has a little bite to it with fresh ginger, orange zest and orange juice. Plus we mixed in allspice and cinnamon for that amazing aroma you expect during the holidays.
My suggestion? Make a double recipe of the Cranberry Glaze.
Holiday Tip #4: Try something new.
Listen, Uncle Ron can just back up a second. Yes, tradition is one thing, but you are in charge. If you wanna try a new recipe, maybe our Cranberry Glazed Ham, then go for it. Maybe you've been thinking about making your own Green Bean Casserole this year instead of what Cousin Angela is bringing.
Don't be afraid to start new traditions and introduce your family to new recipes and ideas. Here are a few of our favorites you might like:
Holiday Tip #5: Use disposable plates for easy clean up.
Dixie Ultra disposable plates are a go-to at my home year round. We use them for cookouts, tailgating, birthday parties and aanytimewe want our time in the kitchen kept to a minimum. This is especially true during the holidays.
Holidays are about bringing the family together...but preferably NOT around the dishwasher.
Plus, Dixie Ultra plates are heavy duty and can hold up to 2 pounds of food. You know, if you happen to have a family that indulges around the holidays.
Don't forget about all of those extra meals during the holidays, too. Kids are out of school. Family stays over. The eating and snacking is seemingly non-stop. Paper plates to the rescue.
Here 10 More Holiday Tips to help keep YOU stress-free:
Make a holiday food and entertaining budget. Most people make a gift budget, but do you really think about how much money you will be spending on food and essential supplies?
Don't overcook. I know, I know, keeping up with tradition is hard to resist. But do you really need 8 side dishes? Think through your meal plan for the holidays. Where can you cut back just a little to save you time, money and stress?
Ask for help during the holidays. Enlist the help of your kids, family and friends for all holiday gatherings. Don't try to do it all yourself.
Start planning early. The earlier you start planning, the more prepared you will be for a fantastic holiday.
Cook & prep ahead. Look for ways you can prepare ahead of time. Are any of your dishes freezable? Can you chop veggies ahead of the time and either freeze or store them in the fridge? Do you have all of your essentials stocked ahead of time.
Clean as you go. Do not let the dishes pile up. Do not let the mess stick around. (See the "ask for help" tip.)
Print out your recipes. Don't get caught last minute digging through your recipe box trying to find Aunt Sandra's Green Bean Casserole. Stop right now and get everything together. Print or copy all of the dishes you will be making and have them ready to go. (This is also helpful for preparing shopping lists.)
Shop early. Don't be the one wrasslin' in the middle of the store over the last can of whole cranberry sauce. (Been there, done that.)
Restock your pantry basics NOW. Make sure you have plenty of flour, sugar, salt, pepper, oil, eggs, butter ready to go. The last thing you want is to run out of an essential ingredient and have to scramble last minute.
Have fun. Have fun in the kitchen, decorating your home, and remember that at the end of the day, you should enjoy the holiday with the people you love.
Love this post? Sign up for the Buy This Cook That Newsletter for a weekly email of new content. You can also follow us on Facebook, Pinterest, Twitter and Instagram for our latest + greatest ideas!
📖 Recipe
Cranberry Glazed Ham
Ingredients
5

lb

pre-cooked smoked ham

not a Country Ham

14

oz

can whole berry cranberry sauce

1

orange

juice and zest

½

cup

brown sugar

1

TB

minced fresh ginger or ginger paste

to taste

¼

teaspoon

allspice

¼

teaspoon

cinnamon

¼

teaspoon

salt
Instructions
Preheat oven to package directions (approx 350 degrees). Line a dutch oven with aluminum foil to wrap your ham. Place the ham cut side down in the dutch oven. Wrap the ham with foil and cover with a lid. Bake according to package directions for HALF the time.

While the ham is heating, in a medium sauce pan, stir together all other ingredients. (Use all of the zest + juice of the orange.)

Heat over medium heat, stirring frequently, until the sugar has dissolved. Bring to a low boil, stirring. Reduce heat to a simmer until thickened to desired consistency, about 30 minutes.

When the ham has heated half the package time, remove from the oven. remove lid and pull back the foil. Generously brush the ham all over with the cranberry sauce. Place back in the oven uncovered for 15 minutes.

Repeat this process, basting and baking, for 2 - 3 more times until the ham is heated through and the cranberry glaze is rich and thick.

Remove from heat, let rest for 15 minutes. Slice and serve with additional cranberry glaze.