To make sure EVERYONE has a good time on New Years Eve, serve one of these delicious + fun Sparkling Mocktail Recipes. These yummy non-alcoholic beverages are perfect for your party. Festive + refreshing, these drinks are sure to be a hit as you ring in the new year.
This post may contain affiliate links to purchase products on which Buy This Cook That earns a small commission at no extra cost to you.
12 Sparkling Mocktail Recipes for NYE
#1 - Cranberry Limeade Sparkling Mocktail from Food Folks and Fun with plenty of fresh fruit and fizz.
source: www.foodfolksandfun.net
#2 - Kid Friendly NYE Sparkling Mocktail Recipes using simple ingredients and fun additions like gummy bears and rock candy. Recipe from Modern Parents Messy Kids.
source: www.modernparentsmessykids.com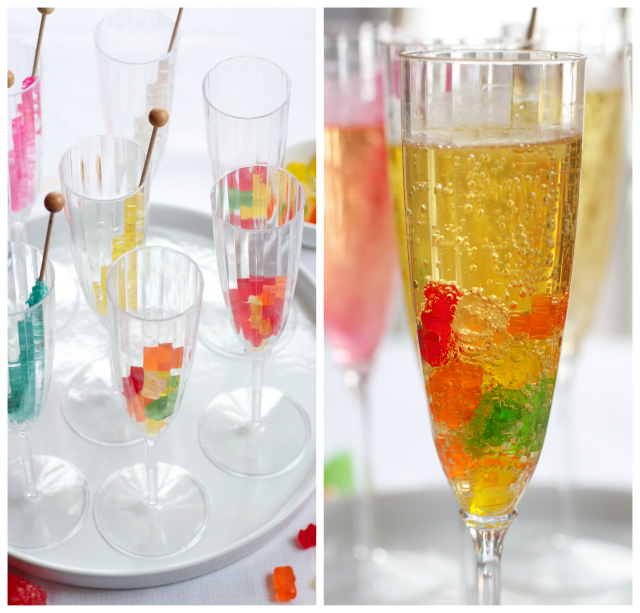 #3 - Jessica Gavin creates a unique blood orange + ginger mocktail recipe using tumeric. Yummy!
source: www.jessicagavin.com

Shop Ideas Inspired by this Post
[show_shopthepost_widget id="2970592"]
#4 - Such a pretty mocktail recipe, light and refreshing. With fresh berries, kombucha and chia seeds from The Glowing Fridge.
source: www.theglowingfridge.com
#5 - They had me at Bellini. A yummy sparkling mocktail recipe from Girl and the Kitchen.
source: www.girlandthekitchen.com
#6 - A glam-tastic Sparkling "Champagne" Mocktail Recipe from Todays Parent. Love!
source: www.todaysparent.com
#7 - Fizzy and beautiful Mango + Apple Cider Sparkling Bellini Mocktail from She Knows.
source: www.sheknows.com
#8 - I am a big fan of fresh fruit in my cocktails AND my mocktail recipes. Check out this delicious Blueberry Meyer Lemon Mocktail from White on Rice Couple.
source: www.whiteonricecouple.com
#9 - Get ready to wow your taste buds with this Watermelon Jalapeno Agua Fresa from The Pig + Quill.
source: www.thepigandquill.com
#10 - The Sassy Southern shares their ultimate Sparkling Apple Pie Mocktail recipe for the big night.
source: www.thesassysouthern.com
#11 - Roy Rogers Mocktail from Best Friends for Frosting. I am in love with this simple cherry-flavored mocktail recipe.
source: www.bestfriendsforfrosting.com
#12 - Celebrate in sophistication with this stunning Grapefruit Basil Sparkling Mocktail from One Two Simple Cooking.
source: www.onetwosimplecooking.com
More articles you might like:
Love this post? Sign up for the Buy This Cook That Newsletter for a weekly email of new content. You can also follow us on Facebook, Pinterest, Twitter and Instagram for our latest + greatest ideas!