Thank you Village Harvest for sponsoring this post. Every day Village Harvest is planting seeds of change and growing possibilities, one bag of goodness at a time.
Put this quick + easy recipe for Oven Baked Catfish at the top of your weeknight menu. Simply prepared with paprika fresh herbs and a splash of wine, this meal will be on your table in less than 30 minutes. Add a deliciously different side dish with an authentic rice recipe from Village Harvest. Our pick? Thai Green Curry rice inspired by the flavors of Thailand.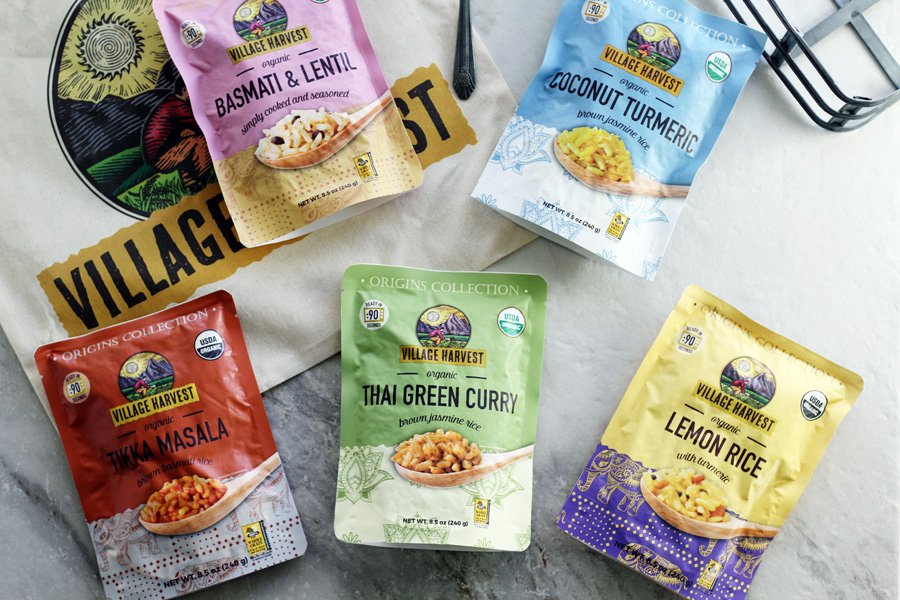 This recipe was made even more delicious with Thai Green Curry rice from Village Harvest. Shop all varieties of Village Harvest Rice by clicking on the image above.
Oven Baked Catfish + Village Harvest Rice
What inspired me to make this recipe was reading more about the history of fish used in traditional Thai cooking. The typical preparation was steamed and served with rice. Fish is also used in many curried dishes.
Where I am from, catfish is a menu regular. I've got to admit, it is typically dredged in cornmeal and deep fried until golden and crispy. But have you ever tried baked catfish?
Pond-raised catfish fillets can be a great way to incorporate more fish into your diet. Plus, when baked, catfish are easy to prepare and serve along with a spicy Thai green curry rice. Did I mention this is a great recipe pairing to get your family to try something new?
Ingredients Needed:
Olive oil
2 pounds catfish fillets - about 4 large boneless fillets
Sea salt
Black pepper
Smoked paprika
Fresh parsley
Fresh chives
Salted butter
Dry white wine
How to make Baked Catfish:
Preheat oven to 350 degrees. Prepare a baking sheet with olive oil or butter.
Rinse the boneless catfish fillets and pat dry.
Lightly season both sides of the catfish with sea salt, black pepper and smoked paprika.
Place the flat side of the catfish onto the prepared baking sheet.
Sprinkle more paprika on the catfish if desired. Top with fresh parsley and chives.
Cut a pat of butter into pieces and place on top of each fish fillet.
Using a spoon, lightly drizzle white wine over each piece of catfish.
Bake for 20 minutes.
Remove from oven and serve with your favorite side dish.
We used just a splash of white wine on top of each catfish fillet. This gives the fish a light bit of acidity and moisture. Plus wine + butter = yum. (You can also use a squeeze of fresh lemon or lime.)
We picked Thai Green Curry rice to serve with our Oven Baked Catfish. The spicy Thai flavor is exactly what I was craving. The flavor of jalapeno pops.
If you are in the mood for a deliciously different rice side dish, try one of these Village Harvest Origins varieties:
Basmati + Lentil - India
Lemon Rice - India
Tikka Masala - India
Coconut Turmeric - Thailand
Thai Green Curry - Thailand
The recipes in the Village Harvest Origins collection are curated by chefs and use fresh, hand-chopped ingredients to ensure an authentic culinary experience.
While the main course is baking, you have plenty of time to heat up a delicious rice side. The Village Harvest Origins collection is fully cooked and ready to heat and eat. You can quickly heat the rice in the microwave. I like heating mine quickly in a skillet.
The Origins Collection is organic and non-GMO, is 100% whole grain and gluten free. My favorite flavors are the Thai Green Curry and the Tikka Masala. My daughter loves the Lemon Rice. No matter which flavor you pick, VIllage Harvest Origins is a smart and simple meal solution you can bring to life in about 90 seconds.
Look at the golden and tender Oven Baked Catfish. This recipe is best served hot over a bed of this delicious rice.
We sprinkled a handful of fresh chopped chives on top of our Thai Green Curry rice right before serving to pair with the flavor in the baked catfish.
Oven Baked Catfish and Village Harvest rice is a great idea for meal prep, too. This recipe makes 4 servings and is easily doubled. Purchase Origins Collection products from Village Harvest here.
If you love this recipe, here are more to try:
Think of all of the meal combinations you can create with Village Harvest Origins rice and baked catfish. Change up the side dish and the seasoning on the catfish for an endless variety of flavors that your family will love.
Here are more spice combinations to make this baked catfish recipe your own:
Chili powder, cilantro and lime
Garlic, ginger and soy
Thyme, rosemary and lemon
I was selected for this opportunity as a member of CLEVER and the content and opinions expressed here are all my own.
Love this post? Sign up for the Buy This Cook That Newsletter for a weekly email of new content. You can also follow us on Facebook, Pinterest, Twitter and Instagram for our latest + greatest ideas!
📖 Recipe
Oven Baked Catfish
A savory seasoned recipe for Oven Baked Catfish that is on the table in less than 30 minutes. Made with a splash of white wine, salted butter, smoked paprika and more, this recipe is a great addition to your weeknight routine.
Instructions
Preheat oven to 350 degrees. Coat a shallow baking sheet with the olive oil.

Rinse the catfish fillets and pat dry. Evenly sprinkle both sides with the sea salt, black pepper, and smoked paprika.

Place the seasoned fillets onto the baking sheet, flat side down. Top evenly with the fresh parsley and chives.

Top the catfish with small pieces of butter and drizzle the wine over each fillet.

Bake for 20 minutes. Remove from the oven and serve hot with your favorite variety of Village Harvest Rice.
Nutrition
Serving:
1
g
Calories:
311
kcal
Carbohydrates:
0
g
Protein:
37
g
Fat:
15
g
Saturated Fat:
5
g
Cholesterol:
146
mg
Sodium:
439
mg
Potassium:
833
mg
Fiber:
0
g
Sugar:
0
g
Vitamin A:
600
IU
Vitamin C:
2.5
mg
Calcium:
32
mg
Iron:
0.8
mg