Who slams on the breaks for a good food truck? We've got a round up of crave-crazy recipes from the best food bloggers that can be made at home to satisfy your ultimate food truck cravings. From tasty + bold sandwiches to indulgent bites and bowls.
Oh, and we've even covered food on a stick.

Food Truck Inspired Recipes You Can Make at Home
I love food trucks. There is something adventurous about eating outside the brick and mortar restaurant. Of course, food trucks aren't new. They have been around for years, serving up meals all over town to the busy people of the world. These days, however, food trucks have stepped up their game and are slinging new flavor combinations, wild recipes, and cultural food fusion that is hard to beat.
A few of our favorite food blogs have created delicious recipes worthy of any gourmet food truck. To get each recipe, simply click on the title or the picture to visit their page.
Sandwiches, Sliders + Such
Sticky Belly Pork Burger with Quick Pickled Vegetables - Kitchen Sanctuary
She had me at sticky. Wow, look at this delish Asian style pork burger. Makes me wanna sink my teeth into at least one. Or two. (Don't judge.)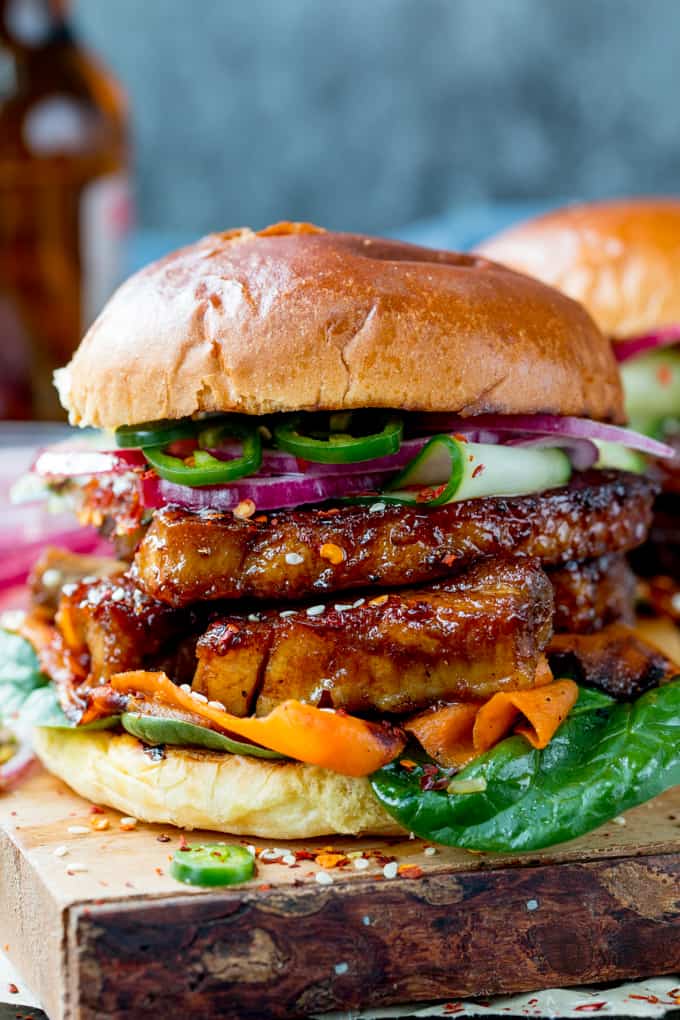 Spicy Chicken Empanadas - Joy Filled Eats
My fave part about food truck food? It is usually pretty portable and extremely tasty. Like these traditional-style spicy chicken empanadas. I can already taste that steamy-hot filling in that perfect crust.
Maine Lobster Rolls - Striped Spatula
You cannot possibly make me believe that this is not the ultimate lobster roll sandwich right here. Forget the food truck, make this legit recipe at home.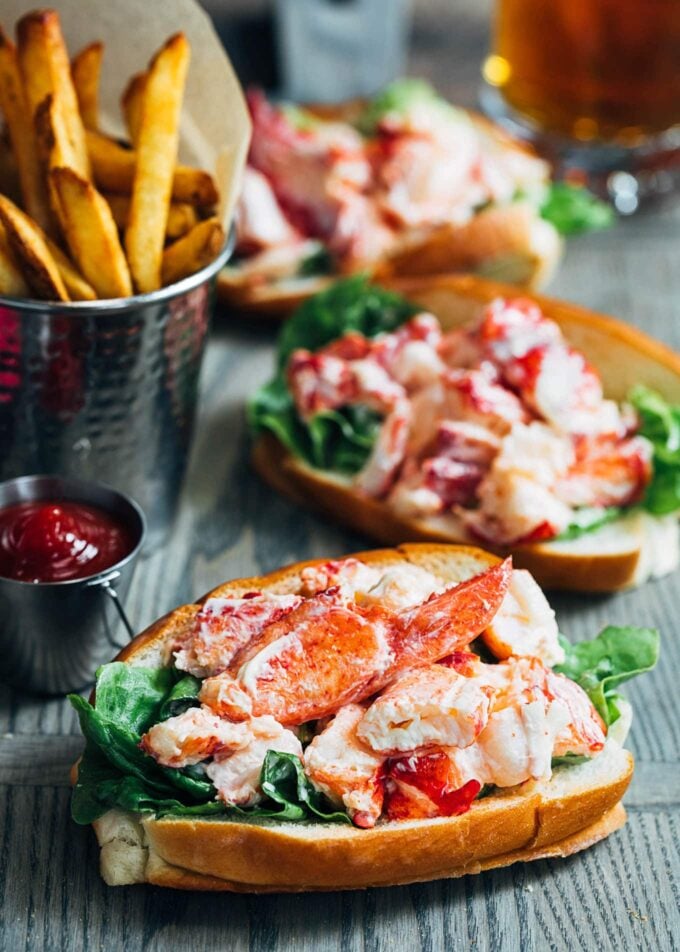 Pesto Grilled Cheese - Beyond the Chicken Coop
Now this is my kind of grilled cheese sandwich. The fresh herbaceous pesto, a tangy tomato, on ooey-gooey cheese and buttery toast.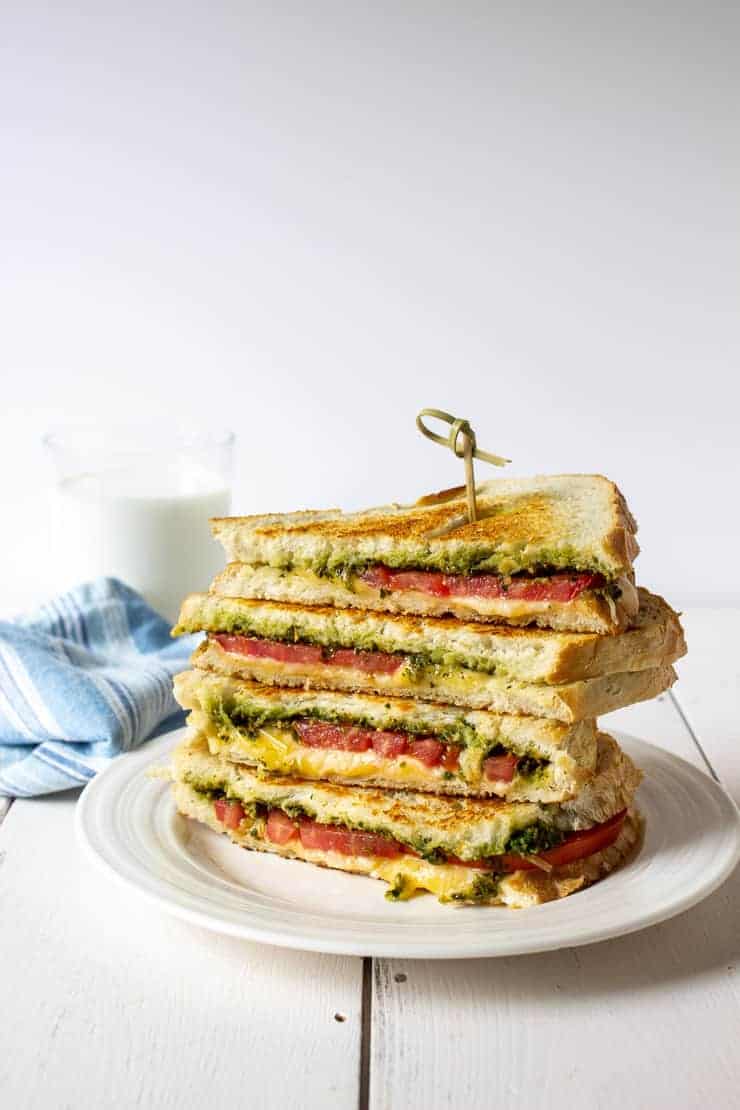 American Patty Melts - Platter Talk
Classic food truck, right here. My mouth is watering thinking about those golden, caramelized onions on top of a beef patty and topped with melty cheese on rye. Sigh.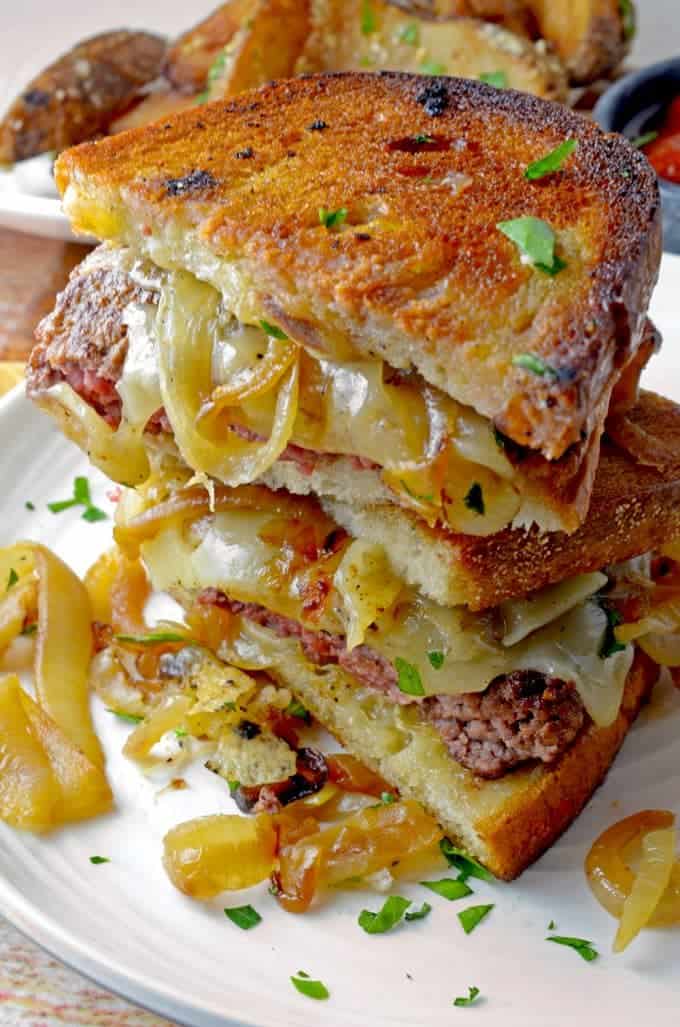 Grilled Gyro Sliders with Tzatziki Sauce - Plating Pixels
I absolutely love this idea of your favorite gyro flavors and creamy, fresh tzatziki sauce in slider form. Can't wait to try this recipe.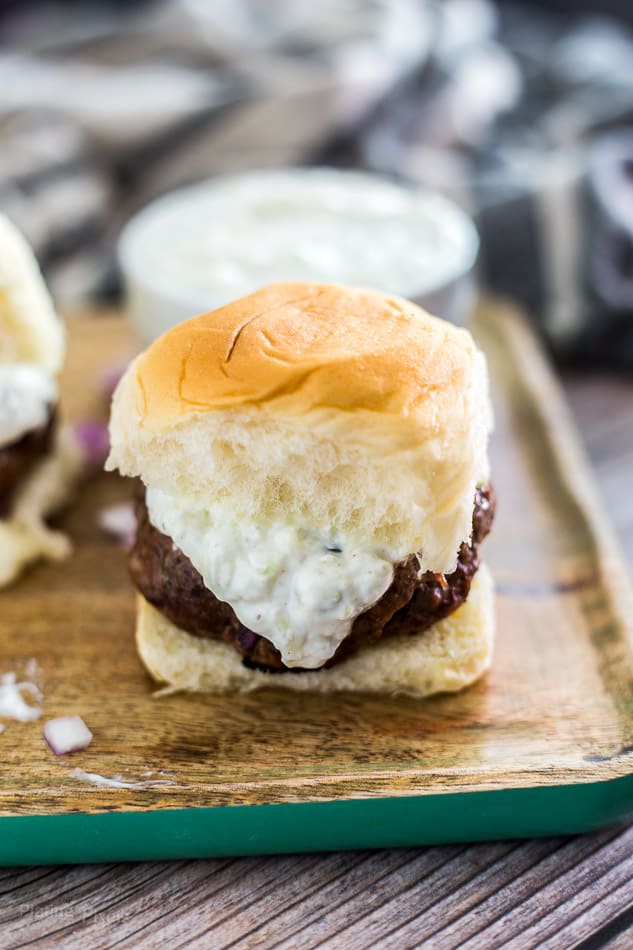 Chicken Banh Mi Sandwich Sliders - The Kitchen Girl
This is literally a trip around the world, and this Vietnamese-inspired recipe for chicken banh mi sliders looks so good. Great for parties, don't you think?
Buffalo Sliders on Sweet Potato Bun - Haute and Healthy Living
She sees your slider bun, and she raises you these amazing-looking buffalo sliders on sweet potato "buns". Great for anyone cutting down on carbs. 100% yum.
Asian Style Shrimp Burgers - This is How I Cook
These. Look. Fire!!! I can literally taste the bursting pineapple in every bite of these tasty Asian Shrimp Burgers. And look at the sear on these bad boys.
Hiroshima Okonomiyaki - Chopstick Chronicles
Every region of Japan is famous for their own version of Okonomiyaki, and the Hiroshima version looks very tasty to me. With layers of savory pancakes, yakisoba noodles, cabbage and more, this recipe is an explosion of traditional Japanese flavor.
Street Style Cuban Sliders - Latina Mom Meals
The combination of signature Cuban sandwich ingredients on a buttery slider bun has my taste buds ramped up. I will definitely be making this recipe soon.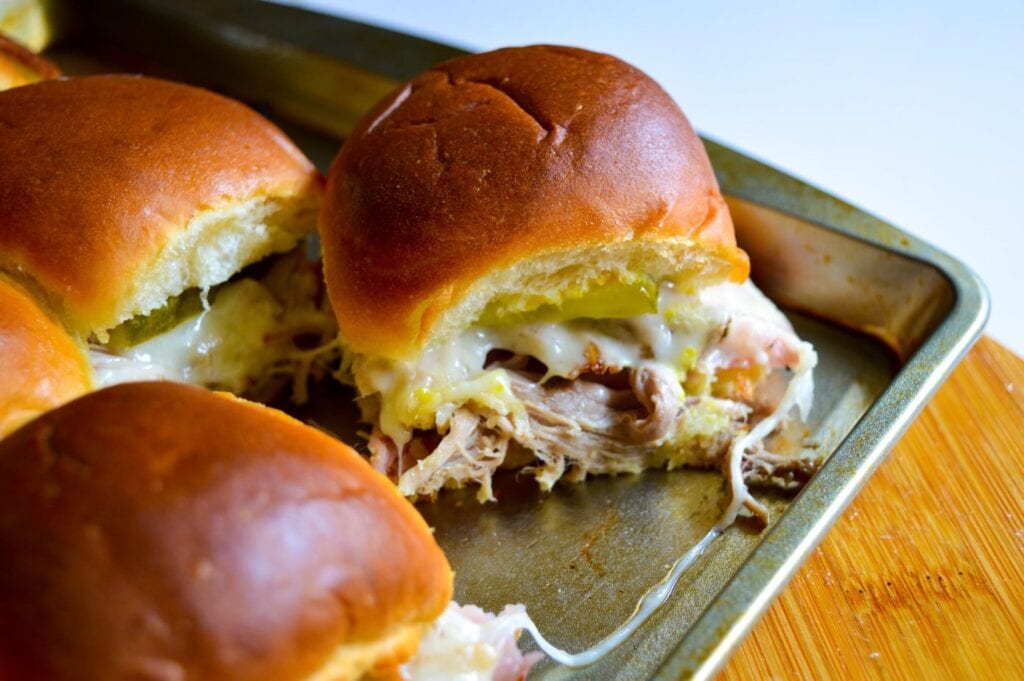 Lamb Burgers with Feta Sauce + Minted Tomato Salsa - Caroline's Cooking
The combination of savory lamb, tangy feta, and the bursting fresh minted tomato salsa has me intrigued. This burger is certainly worthy of any gourmet food truck.
Vegan Banh Mi Char Siu Tofu - Umami Girl
I am digging the fusion of flavor on this veggie-friendly sandwich. Don't skip the marinade or the pickled veggies.
Epic Veggie Sandwich with White Bean Spread - Umami Girl
This sandwich has creaminess, crunch, color and all on a wholesome bread.
Italian Hoagie Pulled Pork Subs - Erica's Recipes
Classic Italian flavor on toasted, soft bread topped with tender, pulled pork and topped with peppers. Oh yeah, this is all me.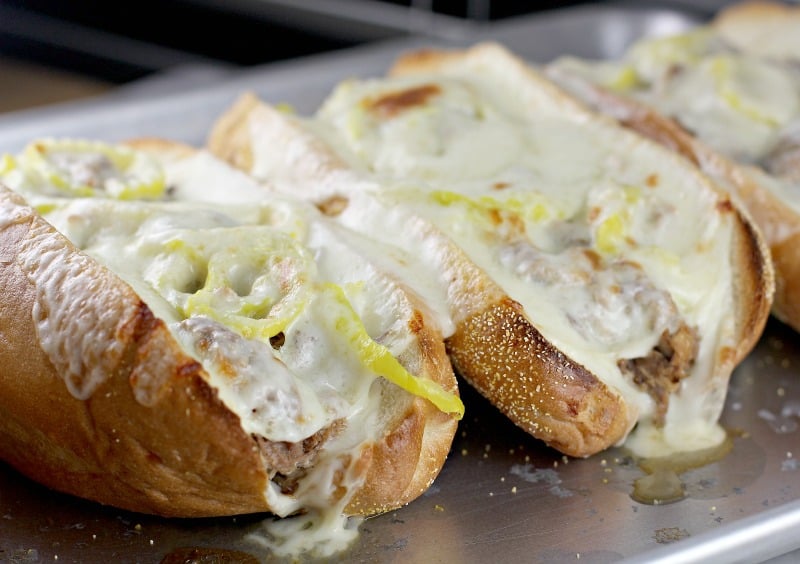 Bites + Sides
The Best Potato + Cheese Pierogis - Kitch Me
Comfort food alert! These homestyle pierogis are a great recipe to make at home when you want something filling and delicious.
Slow Cooker Sloppy Joe Cheese Fries - What a Girl Eats
Gah! Talk about hitting all of my little girl comfort high notes here. Loads of homemade sloppy joe sauce on crispy fries ...and cheese, too?? The ultimate!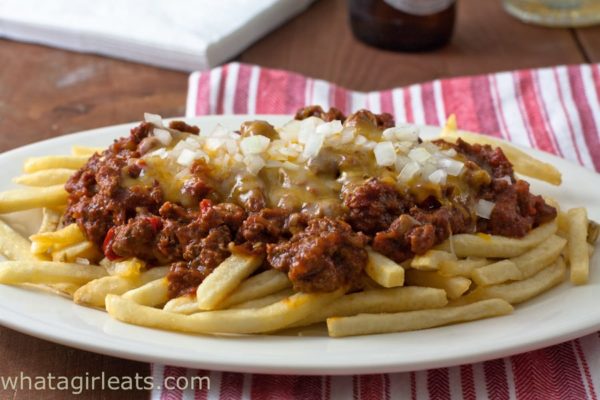 Patatas Bravas with Garlic Tomato Sauce - Buy This Cook That (that's us!)
One of my personal favorite recipes on the blog, this addictive appetizer starts with crisp oven-roasted potatoes and is topped with a to-die-for homemade tomato sauce. Every bite is a mouthful of nom nom flavor, and you'll be begging for more.
Korean Style Fried Chicken Wings - Karen's Kitchen Stories
I would straight up elbow some people out of the food truck line to get my grubby paws on these delicious chicken wings.
Fried Salsa Verde Macaroni Cheese Balls - Erica's Recipes
Yep, Erica needs a food truck, and I'm driving it. Wow at this flavor combination. The perfect bite!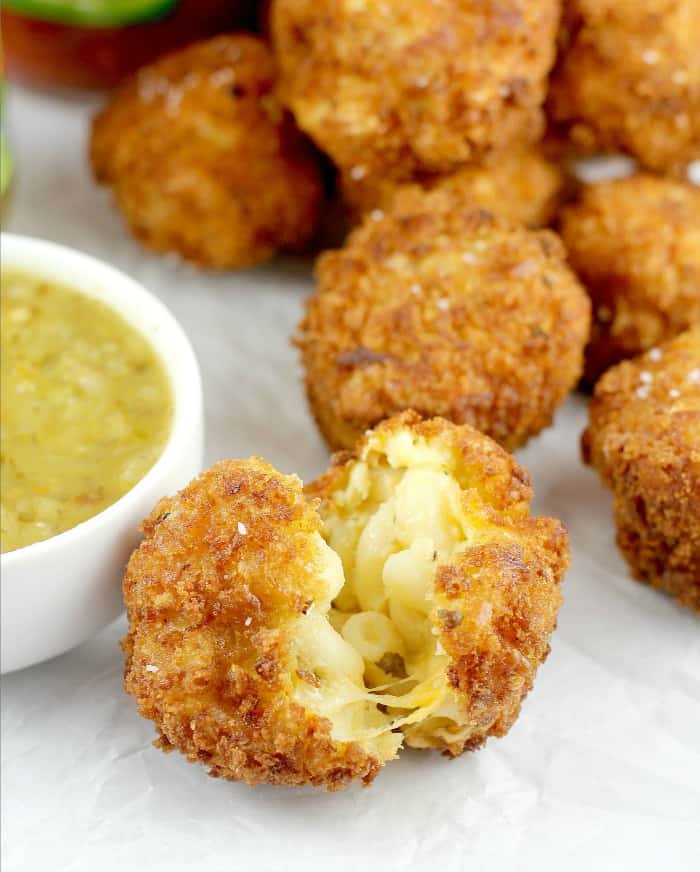 Takoyaki Oyster Balls - Chopstick Chronicles
Learn how to make authentic Japanese street food in your own kitchen with this step-by-step recipe on how to make takoyaki oyster balls.
Baked Chicken Meatballs - Sweet Caramel Sunday
Loving these tasty little baked chicken meatballs, and can't wait to make these for the family. Excuse me while I jump face first into that sauce, tho!
Slow Cooker Korean Short Ribs - Recipes From a Pantry
Get the ultimate recipe for slow cooker Korean Short Ribs with just 5 minutes of prep work. These look like they will fall right off of the bone. I'm so hungry!
Like this Round Up of Recipe Ideas? Here are more:
Bowls
Mexican Street Corn Salad - Jo Cooks
There's probably no street food that I love more than Mexican Street Corn, and this salad takes it a step further into bowl format. Cannot wait to make this recipe soon to satisfy my food truck cravings.
Coconut Milk Shrimp Risotto - Went There 8 This
This is a must-try recipe for a bowl of delish flavors. Coconut and shrimp together served on creamy risotto, sign me up.
Quick + Easy Homemade Pho - The Girl on Bloor
Get your Pho Fix without every leaving the house with this fast + tasty take on a classic food truck item.
Spicy Shrimp Ceviche - Dad With a Pan
Fresh, fresh and fresh. This easy and spicy recipe for shrimp ceviche looks super-yum.
Yakisoba - Chopstick Chronicles
Satisfy those noodle cravings and enjoy bowl after bowl of traditional yakisoba.
Easy Korean Beef Bulgogi - Nourish Nutrition Blog
The big, bold flavors in this beef bulgogi recipe put this at the top of food truck yums to try.
Tacos + Similar
Crispy Cheesy Vegan Quesarito - Spabettie
Crispy + cheesy? Sign me up. These delicious hand-held quesaritos look so tasty, don't they?
Hawaiian Poke Burritos - The Food in My Beard
One bite into these perfectly seasoned burrito wraps of bluefin tuna and you will be hooked for life.
Blackened Fish Tacos with Mango Salsa + Sriracha Aioli - Lemon Blossoms
All the flavor is right here in this crave-worthy recipe for fish tacos. The combo of sweet mango and spicy sriracha will have your taste buds singing.
Garlic Shrimp Tacos (Surf Taco Inspired) - Umami Girl
Garlic shrimp with lime + salt tossed cabbage and cilantro sauce really wow you with fresh flavor.
Brazilian Style Roasted Pork Belly Tacos - Went There 8 This
Pork belly, get in MY belly. These hand-held tasty tacos are loaded with Brazilian-inspired flavor for bite after bite of delicious. Don't skip the homemade chimichurri sauce.
Caribbean Jerk Shrimp Taco with Plum Salsa - Easy Cooking with Molly
The jerk spice and sweet salsa marry for a tasty flavor combo that will be a hit at your next party. Plus they are easy to make.
Crispy Shrimp Snack Shack Tacos - Karen's Kitchen Stories
I love the fact that these little snack shack tacos are baked to get that signature crispy shell.
Portobello Vegan Fajitas - Vegan Huggs
We are so in love with everything about this recipe. The savory spices, bright colors, and hearty strips of portobello mushrooms.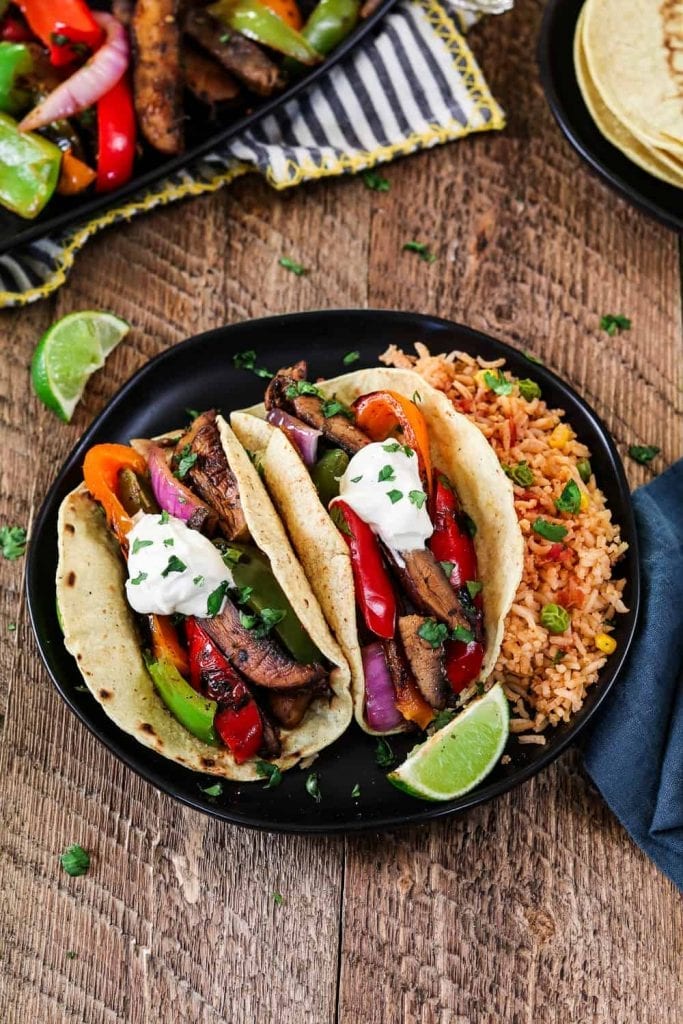 Food on Sticks
Satay with Spicy Peanut Sauce - Lemon Blossoms
The flavors in this recipe for satay are outrageous. The spicy peanut sauce looks so dippable, I can't want to try it. Is dippable a word? I don't know. But it should be.
Homemade Mini Corn Dogs - Spend with Pennies
Can anyone really resist a great corn dog? Savory frankfurter on the inside with a sweet, corn batter on the outside, corn dogs are a food truck classic. Loving this mini version you can make at home.
Yakitori Chicken - Chopstick Chronicles
The chicken in this recipe looks so tender, and the spices in the recipe are spot on. This is exactly the type of food I expect to get from a great food truck.
Grilled Pork Tenderloin Satay Skewers - Plating Pixels
Grilled to perfection, this recipe for pork tenderloin satay style has my gears turning! Time for me to fire up the grill.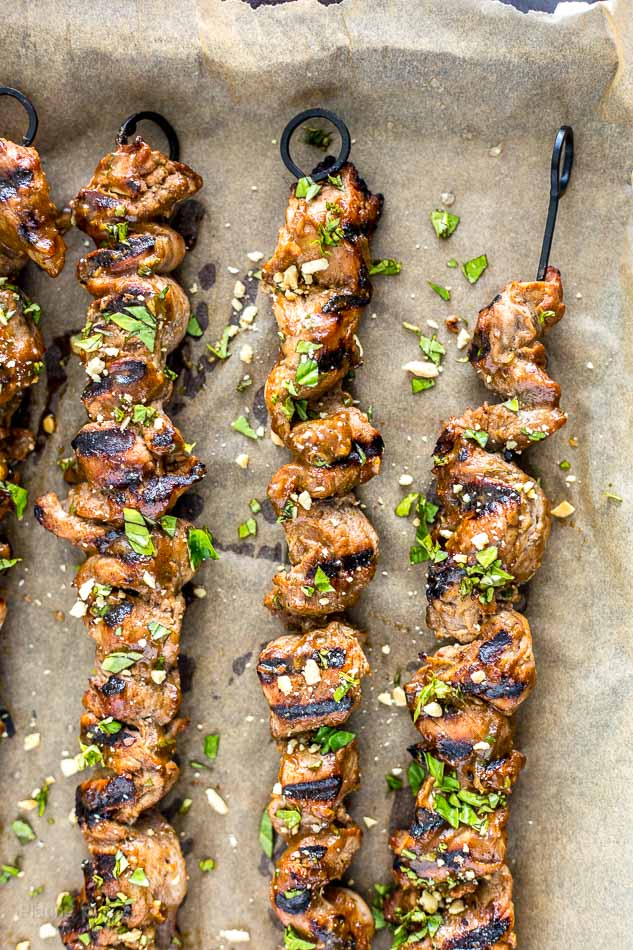 Love this post? Sign up for the Buy This Cook That Newsletter for a weekly email of new content. You can also follow us on Facebook, Pinterest, Twitter and Instagram for our latest + greatest ideas!